Automate processes with enterprise-wide application integration.
Connect applications across your enterprise and increase productivity with BizTalk Server. Automate your business process execution and workflow by seamlessly connecting your on-premises systems to cloud-based applications—or extend your existing investments to the cloud with Azure Logic Apps.
Why Microsoft BizTalk Server for application integration?

BizTalk Server supports a loosely coupled messaging architecture and includes a powerful publish/subscribe mechanism for messaging applications that works by creating and filling subscriptions, which provides a highly efficient and scalable platform for service-oriented architecture (SOA) applications.
BizTalk Services provides out-of-the box, cloud to on-premises and line-of-business application integration for SAP, Oracle EBS, SQL Server, and PeopleSoft. It lets you connect with any HTTP, FTP, SFTP, or REST data source. You can route messages by using various Azure artifacts such as Service Bus queues, Topics, SQL Database, and Blob storage.
Thousands of customers trust BizTalk Services for solutions such as payment processing, supply chain management, business-to-business interactions, real-time decision making, and reporting.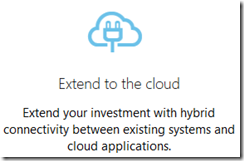 For many years enterprises have spent huge amount to build custom applications and infrastructure running on-prem. Most of these custom build application holds a major portion of business critical data. With the shift towards global markets, business are required to share their data in one or another form to the customers or the partners in a secure manner. The business owners are also making huge investment in cloud offerings simply because of multiple benefits like auto scaling, pay as you go, multiple SaaS products etc.
A hybrid cloud approach offers the best path to the cloud and a way to optimize your existing assets. Hybrid integration solutions allow you to seamlessly integrate applications, data, and processes by building an API-enabled and connected enterprise, allowing you to operate with exceptional speed and agility.